Everyone can think of one scene from a film or TV show that made their mouth water uncontrollably. So, from the chocolate river from Willy Wonka and the Chocolate Factory, to Bruce Bogtrotter's cake in Matilda, we've rounded up the top six chocolate scenes that have graced our screens...
---
1. Juliette Binoche guesses what Roux's favourite chocolate is in Chocolat.
Any film involving Johnny Depp is a winner in our book, and this sexy scene with Juliette Binoche in Joanne Harris' Chocolat was certainly one of the best.
2. Harry Potter discovers chocolate frogs in Harry Potter and the Philosopher's Stone
There are a lot of magical sweets in the world of Harry Potter, but we think the classic chocolate frogs look like the tastiest of all.
3. Forrest Gumpcreates the most famous movie metaphor ever
Thanks to Tom Hanks, we'll never be able to enjoy a selection box of chocolates in the same way again. After all, you never know what you're going to get.
4. Bruce Bogtrotter eats the biggest chocolate cake you've ever seen in Matilda
OK, so we know that this scene was a bit weird (with Miss Trunchbull forcing a young boy to eat an entire cake), but we couldn't help feeling that the gooey chocolate cake Bruce munched his way through looked like one of the best gâteaux we've ever seen.
5. Annie attacks the chocolate fountain in Bridesmaids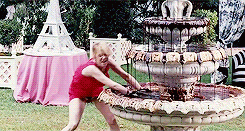 Though this cheeky comedy let the profanities fly, we loved the look of this genuine chocolate fountain at Lillian's bridal shower. Even with a deranged Kristen Wiig trying to climb in it.
6. Willy Wonka'sboiled sweet boat takes a trip down a melted chocolate river
The whole of Willy Wonka's invention room looked irresistible, in fairness, but it was the gloopy chocolate river that greedy Augustus fell into that really caught our imagination.
7. Bonus: Robin Williams flings imaginary food in Hook
OK, it's not chocolate, but this food fight scene in Hooklooked amazing.

Do you have any favourite food scenes? Let us know in the comments below!